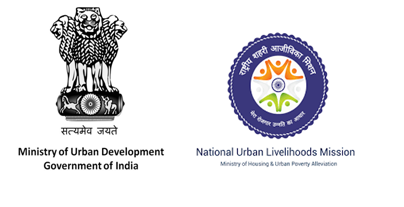 Ministry of Urban Development (MoUD) is the apex body which standardizes laws and regulations relating to the housing and urban development in India. Under the Ministry of Urban Development, the National Urban Livelihoods Mission (NULM) was founded to reduce poverty and susceptibility of the urban poor households by enabling them to access rewarding self-employment and regular wage employment opportunities, resulting in an appreciable improvement in their livelihoods on a sustainable basis by building strong level of institutions for the poor.
NATIONAL URBAN LIVELIHOODS MISSION (NULM)
The primary aim of NULM is at providing shelter equipped with essential services to the urban homeless in a phased manner. The Mission would also address livelihood concerns of the urban street vendors who live under a constant threat of eviction, removal, confiscation of goods or with non-existent social security cover. NULM believes that by enhancing the entrepreneurial skills of the poor might help them come out of the poverty, by facilitating access to suitable spaces, institutional credit, social security and skills training.
NULM acts a convergence between different schemes/programmes of the relevant line Ministries/Departments and programmes of state governments dealing with skills, livelihoods, entrepreneurship development, health, education, social assistance, etc. An alliance strategy with all concerned departments to promote skills training of rural-urban migrants and act as a bridge between the livelihoods of the rural and urban poor. NULM has also partnered with the private sector in providing skill training and employment for homeless. It strives on active participation of private and civil society sectors in providing shelter to these urban homeless, and to train them in necessary skills to be a part of a self-employed, technological and growing skilled India. STC skills closely work with the State Governments to implement NULM.